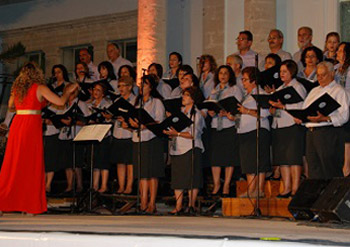 The choir of the Municipality of Lefkara was founded on the summer of 1994. Every year since then, the choir produces unique performances at the Annual Festival of Lefkara, which have become an institution themselves. The Lefkara Municipality Choir is mixed and lists approximately 35 permanent members.
In its short history, the choir has participated in numerous events in Cyprus and abroad, with highlight the concerts by the major Greek composers Mimis Plessas and Giorgos Chatzinasiou that were held at the context of the Lefkara Festival.
The Choir released a digital album with 4 four-part harmony Cyrpiot songs titled "Lefkara" after the homonymous album song. On August 2007, at the Festival, the Choir performed at the Concert of the great Cypriot music composer Marios Tokas, a very memorable concert since it was the last concert to be ever given by him. The cultural impact of the choir is important and its objective is to continue to improve and to actively participate in the wider cultural activities of the county.